Daisy Blossom's Clovelly - "VITA"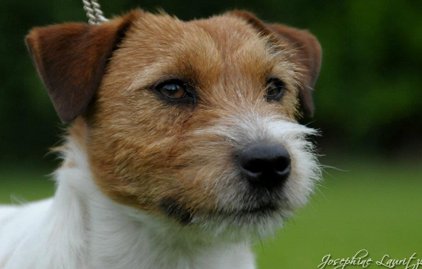 DKK reg nr.: DK10629/2011
KBHV12 / Copenhagen Winner 12
DKCH / Danish Champion
KLBCH / Danish Terrier Club Champion
SECH / Swedish Champion
DECH / German Champion (KfT)
DEVDHCH / German VDH Champion
INTCH / International Champion - C.I.B. NEW!!!!!
Køn / Genger: Tæve / Bitch
Født / Born: 07.06.2011
Højde / Height: 28 cm
Farve / Colour: Hvid og tan / White with tan
Pelstype / Coat type: Broken
Opdrætter og ejer / Breeder and owner: Kennel Daisy Blossoms
VITA bor hos Kennel Ballyhoo Jack's.
Sundheds informationer / Health information:
Korrekt saksebid og fuldtandet / Correct Scissor bite and full dentition.
Patella luxation: H/V Grad 0/0, No indication found
Øjenundersøgelse, ECVO attest: Intet påvist
Dyrlæge Gunnar Gram, Rødding Dyrehospital
Eye Inquiry: Result free
DNA test, FRI fordi forældrene er testet FRI.
DNA test for PLL (Primary Lens Luxation) CLEAR, because the parents are CLEAR